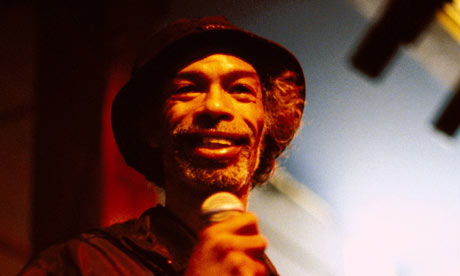 This week someone I consider a musical hero was taken from us. Gil Scott-Heron's voice influenced my writing, the music I listen to, and more. It was people like him who so passionately and articulately spoke out about injustice and struggle who motivate me to try my best to do the same. Though the last few years of his life were certainly difficult and he is hopefully free of pain and at peace now, it still definitely hurt to hear that he was gone.
His delivery of words, his cadence, his calm yet furious anger, the tone of his voice, the passion behind his work, the pain that translated through his songs…it created a final product so utterly moving that I can hardly think of any other person's music I've ever heard that can do what his does to me. Nina Simone, perhaps. He was definitely a legend.
For this week's Sunday Sounds I bring you a few of my favorite Gil Scott-Heron tracks. This is what I listen to when I gaze at the NYC skyline on a summer night to make sure I remember to slow my own life down a bit sometimes. RIP, Gil Scott-Heron.
From Secrets, "Angel Dust" has been sampled quite directly by some of my favorite artists including Hasan Salaam and Joell Ortiz. Scott-Heron's drug use was widely known, and with "Angel Dust" he gave listeners a glimpse into that life.
Off of his album with Brian Jackson It's Your World, "17th Street" is an ode to Chelsea, the neighborhood he lived in at one point. This just makes me want to dance – the instrumentation is crazy.
"brother living in a cell, doin' time at the county jail, you might think his life is hell, but he told me that's the first room he ever had to himself, waiting for the axe to fall"
We Almost Lost Detroit
This track is even more important in the present as the world has been watching the disaster at the Fukushima nuclear power plant in Japan. "We Almost Lost Detroit" challenges nuclear power, in such a poetic way that you barely realize it. It has been sampled by Common among various other notable emcees. This performance of the song was dope.
The story of the ladies man. "well he loved pretty women from Canada to Mexico, and he loved to see them coming and hated when they had to go, macho man before macho ever came to town, and the only problem was not enough of him to go around, you know he had more romances than airplanes got gauges, had more romances than a phone book had pages, he's a legend in his own mind, and God's gift to women, on a day God wasn't giving up a thing". I feel like playing this song when I see how some of the men in New York City stay acting sometimes. Should have paid more attention to this track years ago.